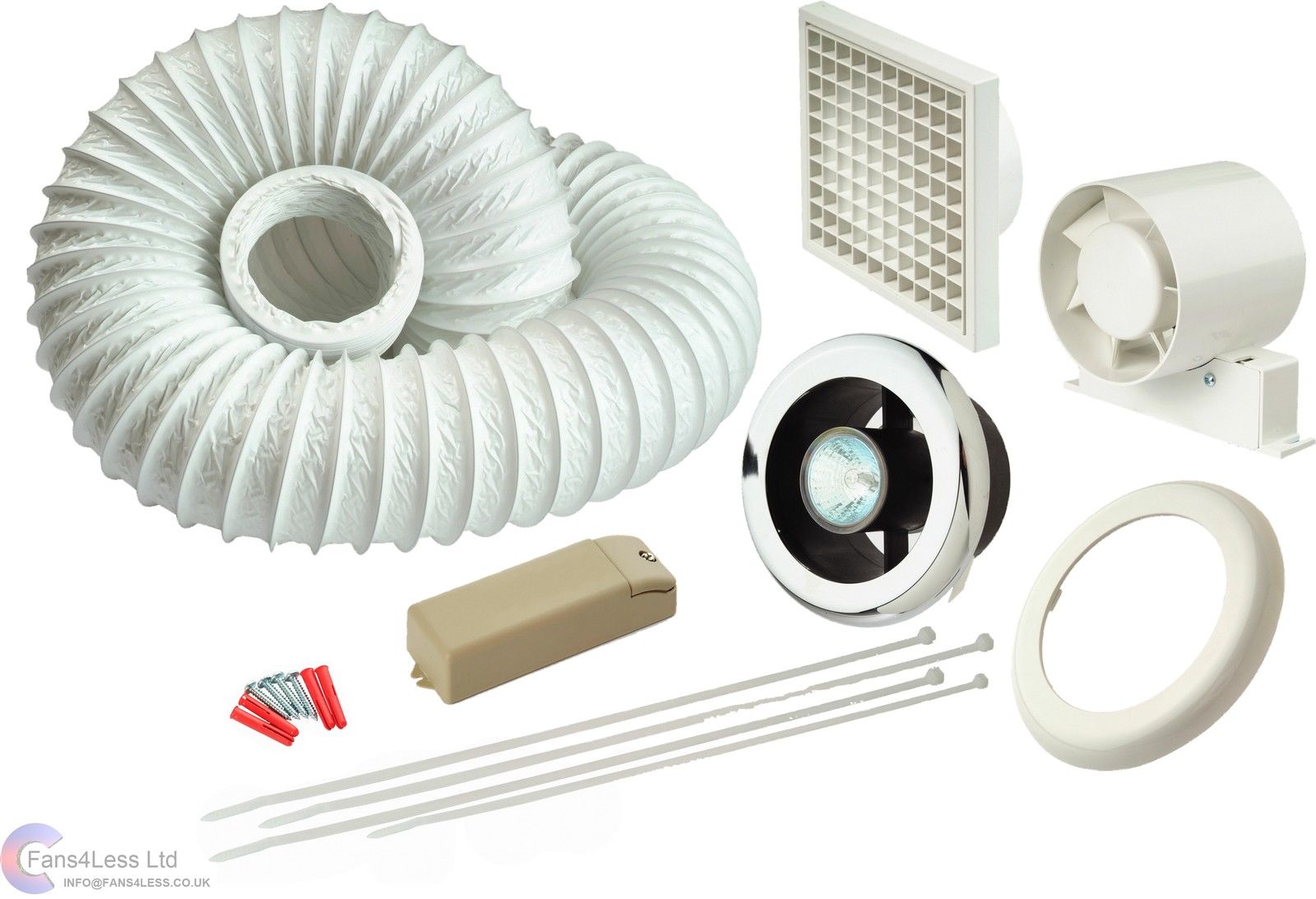 MANROSE VSL100TC 4" SHOWERLITE c/w TIMER
£49.95
Sold out
VSL100TC comes with White and Chrome for internal grille
The Showerlite can be used within the splash area of the shower bath and is powered by a S.E.L.V. remote safety isolating transformer.
Each Showerlite is packed with Fan, Showerlite unit White or Chrome Internal Grille 12V MR16 25w Halogen light, transformer, one length of 3m PVC flexible ducting external wall grille, fixings screws, plugs and straps. 100mm Axial Fan with built in timer for an adjustable overrun of 1-20 minutes.
Designed for the safe ventilation of bathrooms, toilets and shower rooms, these 100mm (4") in-line extractor fans remove any risk of an electric shock in wet areas as the fan is mounted remotely.
Powerful, yet extremely quiet in operation, the extract rate is 85m³/hr (23 ltr/sec)
The fan kits are supplied complete with fan unit, one length of PVC flexible ducting, one internal (white) and one external wall grille, fixing screws, plugs and straps to secure the duct to the grilles.
Power is provided by a single phase induction motor with pre-oiled bearings for a long, maintenance-free life.
The units are all manufactured using high impact ABS thermoplastics for strength and durability, aesthetics and easy cleaning.
Designed to comply with the 2006 Building Regulations on Ventilation (F1).
Installation
The shower fan is easy to install in the average loft/ceiling recess as after the hole has been cut in the ceiling of the shower/room, all other work is continued outside the living area.
Electrical
220-240V - AC 50Hz.
Single phase consuming 14 watts.
Technical Specification ·
Maximum pressure: 20 p.a. · Fan speed: 2400 r.p.m. · Sound volume: 41.0 db(A). · Maximum operating temperature: 40°C