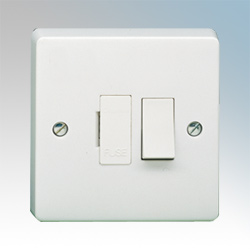 CRABTREE 4827 SWITCHED FUSED CONNECTION UNIT 13A
£4.34
Fitted with knock-out position in bottom edge of plate for use with or without cord outlet.
Suitable for flexible cord up to 10mm outside diameter.

Fused on the line side with a 13A fuse link.
Fuse marked to BS1362.
With fuse removed, carrier may be padlocked for extra on site 'maintenance' safety.
Suitable padlock.
Shallow back projection for ease of installation in a 25mm deep box. Dimensions: 86 x 86mm